I just happened upon a summer sew along that sounds ultra perfect. Make 5 must have summer pieces of your choosing that fit in to some cutesy categories.
found it here:
I'm already planning on a summer skirt, a bamboo sweatshirt jacket, and some long shorts. Need 2 more pieces. Probably will be a top and a dress.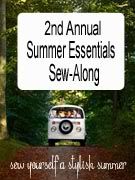 Oh yay! Got the badge on there! Now I wonder if I can put it in the side bar. I'm so bad at blogging.